Ready to set up your Salesforce platform for success as a small business owner?
It's never too late to get the most out of your Conga integration. Schedule a 30-minute discovery call to see how you can reach your full potential!
---
Auditing & Optimization
For the Health Services, Healthcare, & Construction Industry
Salesforce Auditing & Optimization
When You Succeed, We Succeed.
At KGS, we work alongside business owners who already use Salesforce in their everyday operations and need extra assistance setting up, optimizing, or getting the most out of their platform.
From recommending solutions like Conga (or other AppExchange products) to building custom solutions, we are here to help businesses automate and eliminate risks in their Salesforce platform for scalability. We also help customers new to Salesforce implement their new accounts, migrate historical data, and get started in their Salesforce journey — the right way.
Want to make your Salesforce platform work for YOU?
Book a free 30-minute consultation to get started in the process!
Conga Integration Set-Up & Optimization
Reach Your Business Goals with KGS
Using Conga Solutions, KGS has helped customers automate their business processes and manage risk to help them accomplish their business goals.
By partnering with KGS, you can spend 25% less time dealing with:
Document Creation
Contract Management Risks
Reporting and Analytics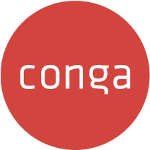 Up-level your Salesforce account with Conga.
Schedule a free 30-minute consultation call today!
Financial Services Industry
Optimizing Your Salesforce for a Better Tomorrow
Our entire team is here to help those in the financial industry take charge of their Salesforce account once and for all.
Even though our entire team has a passion for our clients in the financial industry, Jeff (founder and CEO) has an extensive background in the financial services realm.
Having obtained his FINRA certification and worked previously at Goldman Sachs, Fidelity Investments, and other financial services companies, he is known to leverage his unique experiences to optimize and implement Salesforce accounts for financial service companies.
Who We Serve:
Wealth Management
Insurance
Banking
Accounting
Healthcare Industry
Improving Efficiencies in Your Everyday Business Operations
Are you having trouble setting up your Salesforce account? We don't blame you. It can be challenging to set up on your own!
At KGS, we have helped countless healthcare companies implement Salesforce and effectively integrate Conga Composer to allow teams to easily generate work orders and rapidly increase efficiencies within their customer service organization.
Who We Serve:
Pharmaceutical Companies
Providers
Medical Technology
Construction Industry
Better Reporting. Improved Customer Service. Unified Cloud Experience.
From successfully migrating a large commercial construction company's ERP system to Salesforce to helping a residential construction company improve their B2C marketing through Salesforce integrations, our team at KGS optimizes Salesforce accounts to boost your bottom line.
Other benefits of choosing our Salesforce consulting services include better:
Customer Service
Warranty Servicing
Work Order Management
Cloud Experience
Who We Serve:
Commercial Construction
Companies
Residential Construction
Companies
Schedule a 30-Minute Discovery Call
If you're like most small businesses, you may have run into countless problems when setting up your Salesforce account.
When you aren't an expert in Salesforce (or Conga), it can be a lot to learn if you're new to the software.
Let us handle set-up and optimization for you.
What's holding you back?
Book a FREE 30-minute call to get started in the process!